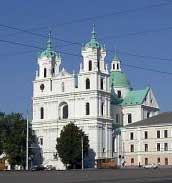 Traditionally, main church of every Belarussian town at all times neighbored upon a central square. Century-old downtown square in Hrodna changed some names throughout its lifetime: Stefan Batory Square, Ceremonial Square, Town Hall Square. However, all over centuries it remained the main square of the city. For more than three centuries its eastern side has been occupied by a monumental building known as Farny Church. Complete name of the building is Cathedral Church of St. Francisk (Francis) Ksavery. It is the largest church in the western Belarus and no doubt the most beautiful church in Hrodna.
St. Francisk Ksavery Church was initially owned by Jesuits. On abolishing Jesuit Order in 1773 the church became Hrodna Cathedral (or "Farny" in Polish). Now this cathedral was erected on the initiative of Stefan Batory who was King of Poland and Grand Prince of Lithuania particulary famous for his victories over the troops of Moscow Tsar Ivan the Terrible.
GRODNA FARNY CHURCH However, the project of erecting the cathedral was not fulfilled within Batory rule because of his sudden death in 1585.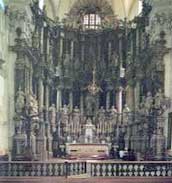 Building of the cathedral was resumed as late as 1647 by priest Francisk Dolmat Izaikovsky and lasted for the next half century. Many years of construction works resulted in grandiose church consecrated in 1667 by Vilno bishop Alexander Sapega.
Interior of Hrodna Jesuit Church, created in the first half of 18th century, impresses the spectators immensely however hand-carved wooden altar overshadows all of them.
The central place in main altar is occupied by the figure of Saint preacher Francisk Ksawery. Each way from the altar there stand very expressive figures of apostles.
It is impossible to imagine Services in any Roman Catholic church without organ music. The organ for the Jesuit Church was purchased in Krulevets (now Kaliningrad, Russia) in 1744. To get to the organ installed on the gallery above the entrance one should follow stone stairs cut out within the walls.
For Hrodna citizens, the clock of Farny Church means the same as Big Ben for Londoners. For five centuries Hrodna citizens check their watches against the main city clock which is the most aged clock among those remained in Belarus till now. They are even older then the church it is adorned with.